2019 NINS Symposium:
Newman and Holiness
Reflecting upon John Henry Newman's legacy in light of his canonization
October 24th and 25th, 2019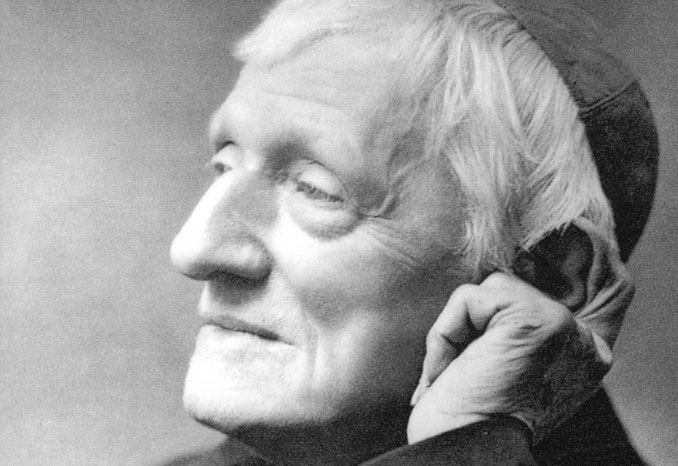 Fall 2019 NINS Symposium
In light of John Henry Newman's canonization, the Fall 2019 NINS Symposium (October 24-25) will explore the themes of lived holiness and our eternal destiny. Topics include reflections on Newman's witness to holiness, treatments of holiness in Newman's writings, the ecumenical significance of Newman's canonization, and the reception of Newman's ideas on holiness in the writings of other theologians.
The call for papers is open until June 17, 2019.
Keynote Lecture
Thursday, October 24th at 5 p.m.​
University Club, University of Pittsburgh
Gold Room, 2nd Floor
123 University Place, Pittsburgh, PA 15260
Symposium
Friday, October 25th at 8:00 a.m. to 1 p.m.​
Gailliot Center for Newman Studies
211 N. Dithridge St., Pittsburgh, PA 15213
Keynote Lecture
Newman's View of America
The Reverend Benjamin John King, Ph.D.
The British in Newman's day were generally suspicious of America and American values. The American Civil War had so discredited democracy, according to the Fortnightly Review, that if democracy were introduced to Britain politicians would start "to chew tobacco, and to shoot at one another across the House [of Commons] with revolvers." This lecture will show that while Newman shared such suspicions, America still fascinated him. As an Anglican and as a Catholic leader, Newman wanted to send missionaries to the USA. He wanted to visit the USA to promote his Dublin University, and welcomed visits from some influential figures in American Christianity. Perhaps it is not surprising, therefore, that it is two Americans whose miraculous healings have led to Newman's canonization.
The Rev. Dr. Benjamin King is associate professor of Church history and director of the Advanced Degrees Program at The University of the South. King went to Cambridge University as an undergraduate and as a seminarian, before coming to the U.S.A. to work as a parish priest in 2000. He since attained a master's in theology at Harvard Divinity School and a Ph.D. in theology at Durham University in the U.K. From 2005 to 2009, King was Episcopal chaplain at Harvard University, where he also taught at Harvard Divinity School.
King's first book, Newman and the Alexandrian Fathers: Shaping Doctrine in Nineteenth-Century England, published by Oxford University Press, was awarded a John Templeton Award for Theological Promise in 2011. His second book, a co-edited volume called Receptions of Newman, was published by Oxford University Press in the fall of 2015. He is currently writing a book about the Oxford Movement's view of the laity, and has co-edited The Oxford Handbook of John Henry Newman, both for Oxford University Press. He has lectured internationally on Newman and on the theology of Sarah Coakley.
Thursday, October 24th, 2019
05:00 PM - 05:05 PM
Welcome and Introduction
Venue
University Club, Gold Room
University of Pittsburgh

Director, National Institute for Newman Studies
05:05 PM - 06:00 PM
Plenary Lecture
[Exact title forthcoming] John Henry Newman's View of America
Venue
University Club, Gold Room
University of Pittsburgh

The Reverend Benjamin John King, Ph.D.
Associate Professor of Church History and Director of the Advanced Degrees Program
Friday, October 25th, 2019
Venue
Gailliot Center Library
08:05 - 8:55 AM
"The Servant Does Not Know What His Master is Doing": Aristotle and Newman on Logos, Incarnate and Empty

Jonathan Buttaci, Catholic University of America
Newman, Wealth, and Holiness

David Deavel, University of St. Thomas (St. Paul, MN)
9:15 AM
Newman's Personal Holiness, as Described by Himself

John F. Crosby, Franciscan University of Steubenville
Holiness in "Type": The Ressourcement of Newman and De Lubac

Sr. Theresa Marie Chau Nguyen, University of St. Thomas (Houston, TX)
The Immutable Character of Truth in Newman's Quest for Holiness: How the Language of the Grammar of Assent Forms a Harmonious Unity

Edward Ondrako, University of Notre Dame
10:45 AM
"That Heaven Be Not Hell": Holiness, Habit, and Happiness in Newman's Theological Ethics

Bo Bonner, Mercy College of Health Sciences (Des Moines, IA)
The Charism of Companionship: John Henry Newman's Adventure in Religious Life

Ramon Luzarraga, Benedictine University Mesa
"That Blessed Spirit in a Bodily Shape": How Holiness and Personality Inhere in an Institution

Austin Walker, University of Chicago